Domes Noruz Kassandra to open its doors on April, 2023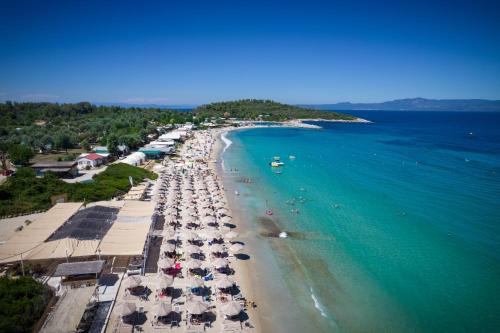 Domes Noruz Kassandra to open its doors on April, 2023
The company unveiled the news on social media.
In April 2023, the new Domes Resorts hotel in Kassandra, Halkidiki, will open its doors to the public.
According to the company's announcement, Domes Noruz Kassandra will have a capacity of 182 keys, including rooms and bungalows, and will be the new addition to the group's portfolio, with the aim of other similar ones for the "Noruz" concept to follow in the near future. This is the second property of the "Noruz" series after Domes Noruz Chania, Autograph Collection operating in Crete.

Invel - Prodea join forces
During the year, the company will also operate the "Domes White Coast Milos", which has 30 luxurious suites with a private pool, unobstructed sea view and access to three beaches of Milos. According to V TOURISM's business plan, the hotel - which has joined the Small Luxury Hotels of the World brand - plans to develop 100 additional suites by 2025, (for 28 of them permission has already been granted) a SPA and a branded restaurant.
It is recalled that Prodea, through V TOURISM, in which it participates with a percentage of 49%, acquires the 5-star hotel that was sold by its owners (two natural persons), while the remaining 51% was acquired by Invel Real Estate (through the "Invel Eudora Fund 1LP" ).