European offices are threatened with obsolescence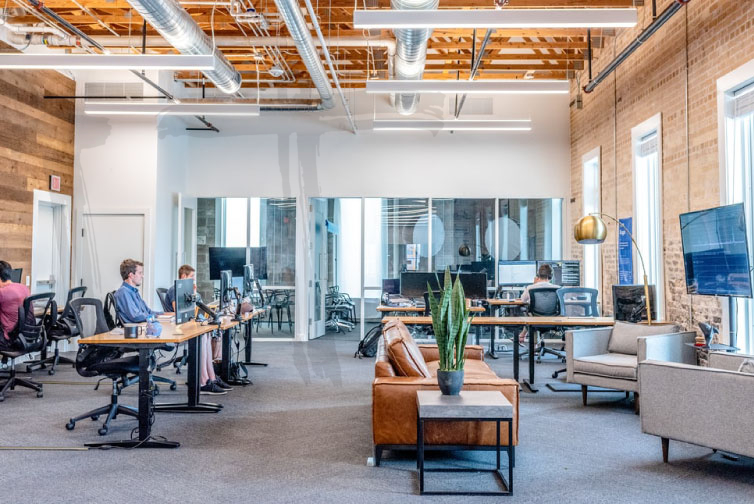 European offices are threatened with obsolescence
A significant proportion of European office stock is at risk of obsolescence based on the EU's proposed Energy Performance of Buildings Directive.
The sustainability agenda in the real estate sector is being driven by a rapidly advancing EU regulatory framework. The European Green Deal is the main growth strategy to transition the EU economy to a sustainable model and move towards net zero by 2050.
The Green Deal is strategically relevant for real estate companies – it will impact business models, market demand and financing conditions. Under this framework, a revision of the Energy Performance of Buildings Directive (EPBD) in December 2021 proposed new EU-wide Minimum Energy Performance Standards (MEPS), which state that public and non-residential buildings will need to be improved to at least energy performance certificate (EPC) level 'F' by 2027 and 'E' by 2030 on an EU revised A–G scale of EPCs. The recast EPBD aims to accelerate energy-efficient renovations in the worst 15% of EU buildings.
According to the recently unveiled "Spotlight: European Office Obsolescence" study by Savills, 74% of offices are below the required EPC B in the UK in 2030 and 40% do not have the required EPC C in the Netherlands in 2023 (30% have no label, meaning that these properties will need to get an EPC before any lease renewals), presenting a huge risk for capital returns due to the proposed regulatory changes in these countries. There are exemptions from EPCs, and not all stock has to have an EPC at present, but regulations are changing.
In addition to the UK and the Netherlands having additional EPC regulations, the Décret Tertiaire in France is a binding regulation that sets out the reduction of energy consumption in existing tertiary use buildings, with a target of at least 40% reduction in 2030, 50% in 2040 and 60% in 2050.
While only 9% of sampled stock in France is at risk under the EU EPC E by 2030, to achieve a 40% reduction in energy consumption by 2030, improving the energy efficiency of office buildings of a larger portion of the stock will be necessary.
32% and 23% of offices with known EPC ratings in Italy and Ireland, respectively, are at risk of obsolescence in 2030, providing opportunities for value add investors.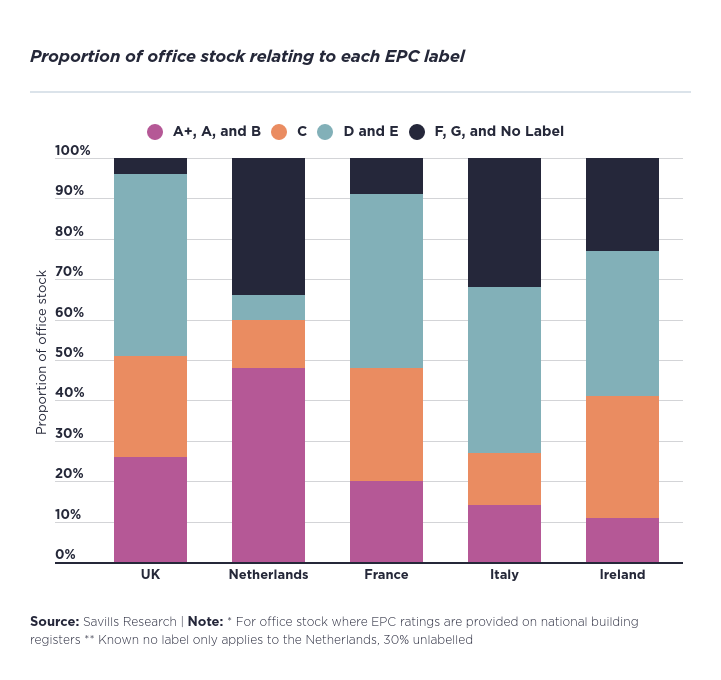 The value of an asset is likely to be affected if it does not meet professional, investment and legislative standards. However, the UN estimates that only 1% of the EU's building stock is being renovated each year.

In addition, under the EU Classification Regulation, energy certificates receive further attention and a more thorough audit process. For the acquisition or ownership of commercial buildings, the law states that any property built before the end of 2020 must be Grade A or higher, or be in the top 15% of the national building stock, to meet the specification. This will further accelerate the transition to energy efficient buildings.
Strong Green Occupier Demand
In addition to more stringent legislation coming into effect across Europe, investors also face pressure from occupiers who are prioritising ESG-compliant buildings and are prepared to pay a premium for the best-in-class space. Maintaining a positive reputation and attracting the best talent are two contributing factors to corporate ESG strategies. Occupier behaviour is driven by the collective push to sustainability and many companies have launched their own targets aimed at achieving net zero. For example, in September 2022, GSK announced the launch of the Sustainable Procurement Programme which will require suppliers to make sustainability commitments in areas including emissions and heat. One environmental goal includes reaching 100% renewable electricity usage and good water stewardship at all GSK sites by 2030. Looking ahead, we can expect rising vacancy rates in dated, non-compliant buildings as corporate strategies seek best-in-class space. Whilst at country level, governments will introduce their own regulation, corporate occupiers will demand a minimum EPC as part of their ESG strategy, which will impact office space in all geographies.
Undoubtedly, the integration of ESG targets into corporate strategies has increased the demand for sustainable and green-certified properties, which is in turn driving prime rents and creating a green premium. Amsterdam saw the highest rental growth y-o-y in Q3 2022 at 16%, despite the overall vacancy rate increasing by 1.2% between Q4 21 and Q3 22, indicative of a two-tier market between prime and secondary stock.
The Investment Perspective
With tighter regulation in the UK and the Netherlands, we are expecting a larger portion of office stock to comply with the EU 2030 deadline than other markets given the earlier dates of compliance for higher labelled EPCs. As a result, increased activity from core investors will target these markets. Earlier this year, Aviva Investors acquired the FOZ building in Amsterdam with EPC label A as part of the group's Climate Transition strategy and commitment to reaching net zero across the whole of its £47 billion Real Assets portfolio by 2040.
Indeed, data from Savills latest EMEA Investor Sentiment survey shows that 24% of investors will seek to acquire only ESG-compliant assets.German funds are generally most sensitive when buying core assets, with many funds unable to invest in assets with an EPC label lower than a B. According to the Empira Institutional trends 2022 survey of German investors, nearly 90% consider ESG to be very important, which is significantly more than in the previous year (67%).
Corporate ESG strategies are restricting investors over what they are able to invest in, with 'green' capital chasing those buildings with the highest credentials. Though with fewer projects in the pipeline due to rising construction costs and tighter financing conditions, green loans offering preferable rates will incentive landlords to invest.
Whilst the acquisition of sustainable buildings is an important element of net zero strategies, refurbishment and retrofitting will become necessary to help with the undersupply of Grade A buildings. The US Energy Information Administration estimate that 75% of the carbon emissions in a building's life cycle come from the construction process, so more landlords are retrofitting existing space to reduce releasing a building's embodied carbon.