65% of property owners cannot renovate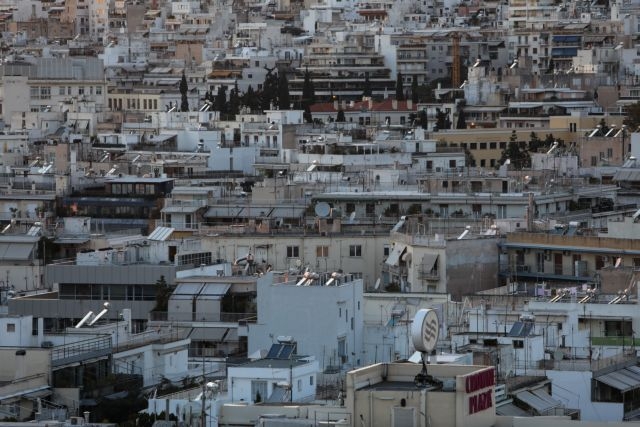 65% of property owners cannot renovate
A pan-European survey on whether property owners want and can renovate their home was conducted by the International Union of Property Owners (UIPI) of which the Hellenic Property Federation (HPF) is a member.
Research of the International Union of Property Owners (UIPI) of which HPF is a member.
The results of the survey, which involved 10,000 homeowners from 36 European countries, helped UIPI get an accurate picture of homeowners' renovation positions and how households can make a realistic contribution to meeting the European climate targets.

The results of the research show the strong willingness of Greek owners to renovate their homes.

Specifically, 86.26% of respondents believe that it is beneficial to make their properties more energy efficient and sustainable in order to:
to increase the rental or commercial value of their property (71.57%),
to save money (71.24%),
to help the environment (58.01%) and
to live more comfortably (51.14%).

In addition, half of the respondents see benefits in all categories.

Prior to the pandemic, 71% of respondents planned to carry out small or extensive renovations to make their homes or properties more energy efficient.

From them:
65.98% planned to replace windows,
61.41% the insulation renovation,
56.64% the replacement of thermal installations and
36.31% the renovation of the facade.
Renovations related to the replacement of conventional energy sources that were also popular among Greek property owners are the following:
solar energy (25.73%),
roof renovation (23.86%),
installation of smart systems (20.95%),
replacement of lighting installations (19.92%) and
replacement of household appliances (14.52%).

Less interest was recorded in the renovation of ventilation systems and the replacement of conventional energy sources with geothermal energy and other methods.

The estimated budget per property that respondents were willing to invest in renovations was:
up to € 5,000 to 16.39% of respondents
between 5,000 and 10,000 € at 35.48%,
between 10,000 and 20,000 € at 26.14%
from 20,000 and over to 21.99% of respondents.


Obstacles to renovation

Among those who do not plan to renovate
64.77% stated that they would like to renovate but do not have the necessary funds and
17.62% stated that their homes / properties do not need renovation.

The rest indicated that they did not know enough about the subject or could not find specialized services, but a high percentage of respondents stated other reasons such as renovations that had been done before, the uncertainty of the amortization of the investment or problems of co-ownership.

Regarding possible assistance programs that could help change the opinion of homeowners about the renovation
49.74% answered positively (49.74%) to financing instruments,
24.35% answered in the negative and
25.91% remained undecided.
When asked about gathering professional services such as One-Stop-Shops (OSS) that would advise and facilitate interested owners to decide:
33.68% of respondents said they would change their mind,
26.94% they would not change their mind either way
39.38% declare undecided.

Effect of Covid-19 on renovation

The crisis caused by the Covid-19 pandemic has affected the capabilities and expectations of households and businesses in all respects. Regarding the renovation of houses, 67.41% of Greek property owners stressed in this survey that the pandemic changed their plans. Specifically:
64.93% decided to postpone their plans,
23.98% abandoned the idea and
19.23% reduced their plans.

Regarding the new budgets that these respondents were thinking of investing in the renovation, the percentage of people who plan to spend less than € 5,000 doubled while the percentage of people who wanted to invest between € 5,000 and € 20,000 or more than € 20,000 decreased significantly.

Overall, 6 out of 10 respondents to this survey in Greece said that Covid-19 and the ensuing crisis negatively affected their view of renovation. Most of the property owners who changed their mind consider it a comparatively lower priority today (73.39%), while 22.74% believe that it is more important than ever.

Incentives for renovation

As finances are the main obstacle faced by property owners in renovating, the motivations that respondents consider to be absolutely necessary to help them are:
Renovation subsidy (74.61%),
Property tax deduction (ENFIA) (71.83%),
Discount and tax exemptions on income tax (46.75%) and
Reduction of VAT (40.40%).
Services such as professional and technical advice (24.92%) and One-Stop-Shops (OSS) (18.58%) are also highly valued by respondents. Other incentives such as different types of repair loans and soft loans are also welcome, but at a lower rate.

Final conclusions of the research for Greece
8 out of 10 respondents find it beneficial to make their properties more energy efficient. More than half are looking at it to increase the value of their property or save money and help the environment, which indicates that the economic and environmental benefits are compatible and can be achieved in parallel.
Property owners are facing a lot of financial burdens and while there is interest, there is a great lack of information and concern about the issue of renovation. More than half of those surveyed said they would like to renovate but do not have the necessary funds, while a significant percentage of people who are not willing to renovate said that substantial funding programs and organized professional services such as One-Stop-Shops (OSS) ) would help to change their mind.
The Covid-19 crisis has had a major impact on renovation plans: respondents affected by the pandemic have largely decided to postpone or abandon their renovation plans. Also, the crisis has a big impact on their views: the majority of Greek property owners now consider renovation a lower priority, and in any case much more difficult to achieve.
Lack of subsidy and substantial tax incentives are among the main obstacles faced by respondents when it comes to renovation and must be tackled effectively as everyone must realize that property owners are the key to success in the Renovation Wave. Wave).
Professional and technical advice and simplified user-oriented solutions, such as One-Stop-Shops (OSS), are another key incentive that respondents need to renovate, which is still far from the average citizen.