The first energy-positive Elithis Tower that will offer affordable rents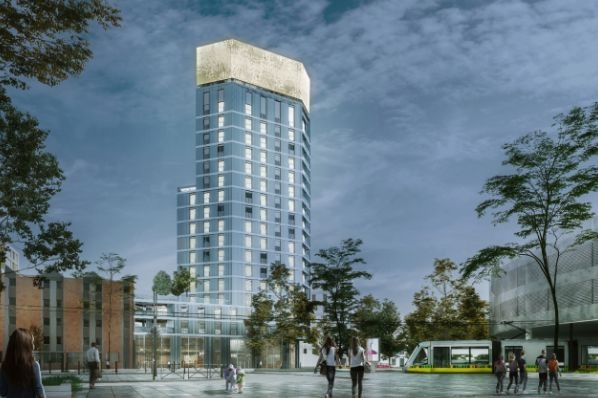 The first energy-positive Elithis Tower that will offer affordable rents
Catella European Residential Fund III acquires the first energy-positive Elithis Tower, that will produce more energy than it consumes, in Saint-Etienne, France.
The planned €2bn investment programme aiming 100 "energy-positive "Elithis" residential towers across Europe.
The planned €2bn investment programme of 100 'energy-positive 'Elithis' residential towers across Europe, aimed at providing affordable and sustainable homes. It is the result of a partnership between Catella Residential Investment Management (CRIM) based in Berlin and the French technical company Elithis.
These projects will be delivered between 20-to-30 years ahead of the EU's ambitious 2050 carbon-neutral timeline target for the built environment and already outperform Europe's climate goals for cutting CO2 emissions.

The 4,000m² Saint Etienne development will comprise 56 apartments, nearly 500m² of office space and 257m² of retail, together with underground parking spaces. The building, designed by architects PPX, is located on the corner of Rue Cugnot and Rue de Sergent Riviere in Saint-Etienne's Chateaucreux area, the city's business district and location of its central station.
The area has been transformed over the past years and offers a mix of commercial and residential accommodation as well as good local transport links and open spaces. Saint-Etienne, located 50km to the south of Lyon, is the capital city of the Loire region and with more than 170,000 inhabitants, also has a strong local industrial economy.

Xavier Jongen, Managing Director Catella Residential Investment Management, said: "The Elithis towers are the blueprint for the future of affordable and sustainable residential living in Europe and we are at the start of rolling out a planned 10-year investment programme, starting in France and then moving into other major markets such as Germany, the Netherlands and the UK.
The revolutionary energy-positive design of the buildings means tenants can make significant savings on their household costs, with the potential to eradicate their annual energy bills, while investors don't need to sacrifice returns for a sustainable and low-risk stable income product offered at an affordable rent.
Everybody and the planet wins. 'Future-proof' is an over-used term in the real estate market, but the Elithis towers are genuinely exactly that".
Thierry Bievre, CEO Elithis, said: "Our DNA and advances in technology that have enabled us to design and build energy-positive buildings for the same construction cost as a standard building should send a strong message to real estate investors and governments that cost is no longer a barrier to integrating the highest levels of sustainability in residential developments".