The new Bulgari store in Shanghai features a facade made from brass and recycled glass bottles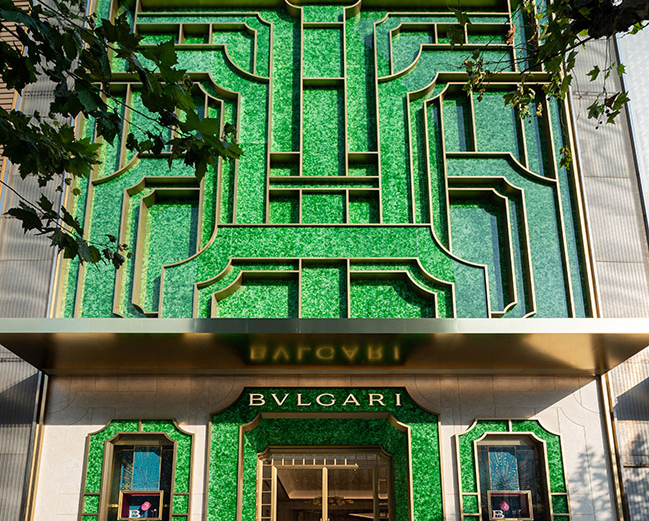 The new Bulgari store in Shanghai features a facade made from brass and recycled glass bottles
MVRDV studio designed the jade-like façade.
Shanghai Plaza 66 – one of the largest and most popular shopping malls in Shanghai – is now the home of a new Bulgari flagship store at Shanghai's Nanjing Road.
The new store features a green, jade-like façade designed by MVRDV, made from brass and recycled champagne, beer, and other glass bottles.

Inspired by a medley of influences, from the original Bulgari store in Rome to Shanghai's unique Art Deco architecture, the project is innovative and sustainable, yet remains true to the heritage of both Bulgari and Shanghai.
Bulgari Shanghai is the third flagship store façade in MVRDV's ongoing partnership with the luxury Italian jewellery brand. Like the previous designs, the Shanghai project makes use of a visual motif inspired by the portals and cornices of Bulgari's first original boutique on Rome's Via dei Condotti, adopting the recognisable visual identity that now distinguishes their stores worldwide.
To close this circle of inspiration, the façade takes on the materiality of fine jewellery with panels that resemble China's most precious stone, Jade.

The panels are made of sintered green glass, a unique material effect that creates a translucent finish. At night, a backlight behind the panels gives the façade a striking glow, highlighting the unique textural quality of the glass. The glass is completely recycled, produced at the Magna factory in Teutschenthal, Germany, which specialises in glass treatment.
The project demonstrates the potential of sustainable recycled materials, even in luxury contexts, and takes one step towards MVRDV and Bulgari's goal of store designs that are built using 100% circular economy materials. Meanwhile the backlight is engineered to minimise the façade's energy footprint, using less than half the energy of a typical comparable installation.