10 Greek startup have been shortlisted to claim the ENVOLVE AWARD GREECE 2022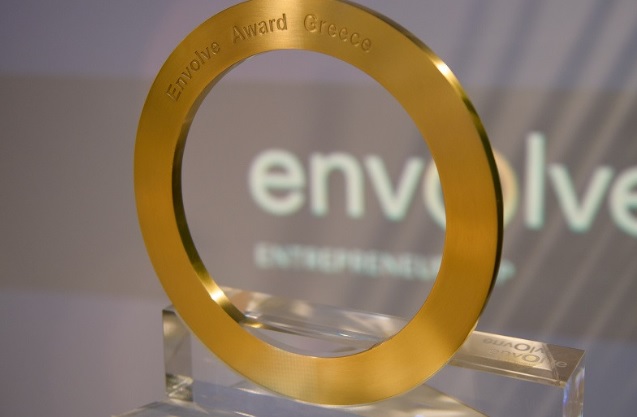 10 Greek startup have been shortlisted to claim the ENVOLVE AWARD GREECE 2022
Envolve Entrepreneurship, a social program of the Libra Group supporting entrepreneurship, unveiled the 10 finalists of the Envolve Award Greece for 2022.
These 10 startups will be considered for a prize of up to €50,000 in interest-free funding, as well as mentorship, business support services and more to accelerate and scale their business. This year's finalists represent critical future-focused sectors in Greece, including health and pharmaceutical services, education, sustainable transportation, fintech, retail tech and delivery tech.

The 2022 Envolve Award Greece winners will be announced on Wednesday, June 8 at a live ceremony, hosted by Sakis Tanimanidis, at the Athens College Theater. In addition to the Envolve Award Greece, the public can also select and vote for their favorite finalists to win the #GetEnvolved awards by liking each team's pitch video posted on Envolve's Facebook and Instagram accounts in Greece.

The Envolve Award Greece 2022 finalists are:
Bespot, a company that is unlocking the value of geolocation data and contributes to the digital transformation of the retail experience. Utilizing artificial intelligence and IoT technology, the application offers high accuracy mobility-tracking activity for over 4,000 indoor and outdoor retail venues. It offers personalized content and captures trends to improve the customer experience.
Coffe-Eco, a company that is creating a zero-waste ecosystem for the collection and recycling of spent coffee grounds. It processes espresso coffee residues into sustainable raw material used to produce skincare cosmetics. This sustainable process transforms the espresso supply chain from a linear into a circular one.
eVplus, an application which uses artificial intelligence to help electrical vehicle drivers find optimal charging stations and routes. Assessing each driver's data, including driving style, lifestyle, budget, weather conditions and the desired travel time, it provides recommendations for routes and charging stations.
Grandmama, an online platform that connects seniors and their relatives with trusted caregivers, for home healthcare all over Greece. Grandmama curates the onboarding process for the caregivers, including background check, reference check, interview, and eligibility to work in Greece. Users also give feedback about caregivers' services, with a rating system using specific qualitative KPIs.
Infin8, an application that supports the financial management of individuals and businesses. It offers access to all bank accounts and cards of users, automated transaction categorization for better management of income and expenses, as well as the ability to transfer money from any user account easily and safely. Inifin8's vision is to use the power of open banking to offer smart leads to merchants, based on transactional behavior. Infin8's application is available in six countries and supports more than 160 banks.
Kineo, a company that offers micromobility subscription services. With a fixed monthly fee, riders can select the e-bike or e-scooter of their choice according to their daily needs, as well as technical support, insurance, road assistance, and parking.
Morphoses, an activity-based e-learning platform designed to cultivate children's (K12) soft skills and enhance their social-emotional learning, whilst also developing the necessary means for their future with live virtual classes. Through engaging activities and games, they develop skills, such as emotional intelligence, communication, curiosity and time management.
OptIn, a platform that automizes the planning of Employee Share Option Schemes (ESO), from the design of a bespoke ESO, to the cap-table management, to the education of employees around ESO. Optin's vision is to support businesses to motivate their employees and offer them tools to do so.
Pet Explorer, the first Greek online marketplace exclusively for pets. Through Pet Explorer, users can search and rate veterinarians, as well as professionals and services in the pet industry.
Shiplemon, a platform that connects every delivery service company (couriers) with e-shops in a single system, and offers a shipping management application, for the best and most reliable service to their customers. Shiplemon's mission is to turn shipping management into a competitive advantage and development tool for the e-commerce sector.