The Highest Residence in the World Hits the Market at Central Park Tower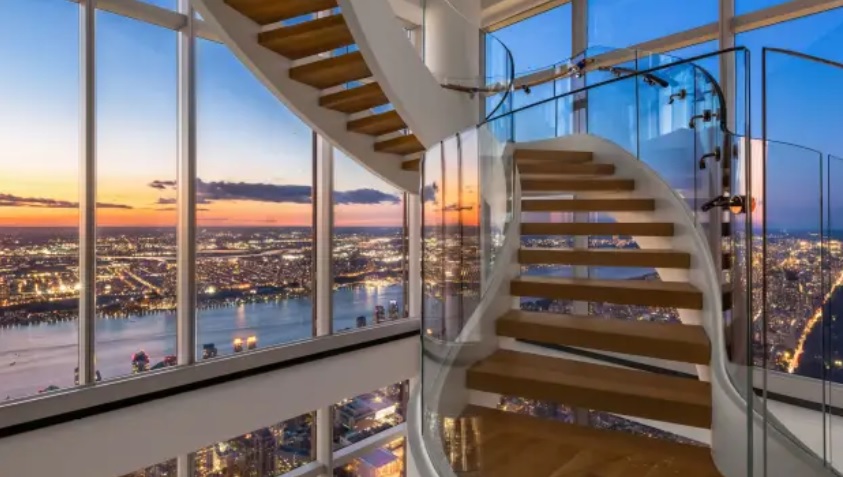 The Highest Residence in the World Hits the Market at Central Park Tower
Rising 1,550 feet, Central Park Tower is a feat of modern engineering.
A multidimensional real estate brokerage that sits at the intersection of media, entertainment, education, and technology, announced its most exclusive and expensive listing. The Penthouse at Central Park Tower, which is the highest residence in the world, is now on the market for $250,000,000.
Situated 1,416 feet from the ground, atop the world's tallest residential building, this one-of-a-kind Penthouse boasts 17,545 square feet of interior living space and a 1,433-square-foot outdoor terrace. Spanning three floors, this mansion in the sky features the highest private terrace and a private ballroom.
The Penthouse at Central Park Tower transcends the concept of a trophy property into a league of its own with the earth's curvature visible to the naked eye from the 131st floor. The dynamic views and multiple panoramas are maximized by the expansive dimensions, walls of glass, and soaring 27-foot ceiling heights.
There are seven bedrooms, eight bathrooms and three powder rooms, accompanied by unique living and entertaining spaces and two impeccably designed kitchens – one is a professional catering kitchen for entertaining and one is a private family home kitchen.
Rising 1,550 feet, Central Park Tower is a feat of modern engineering. With architecture by Adrian Smith + Gordon Gill Architecture (AS+GG), and interior design by Rottet Studio, the tower is a state-of-the-art combination of stratospheric views, exceptional architecture, gracious layouts, and resort-style services and amenities.
The defining feature of Central Park Tower is Central Park Club, an exclusive offering that includes 50,000 square feet of white-glove services and amenities spread across three floors. Each curated area provides a unique experience complemented by five-star service and created by lifestyle advisor, designer and author, Colin Cowie.
The recently unveiled 100th Floor is New York's most elevated private club boasting private dining and entertaining spaces. The meticulously-designed space features a grand ballroom with seating for more than 130 people, private bar and restaurant with seasonal menus from Michelin star chefs, and wine and cigar lounge – all with one-of-a-kind 360-degree views of Central Park, the Hudson and East Rivers and the famed Manhattan skyline.
(source:prnewswire)