The National Theater of Rhodes to be restored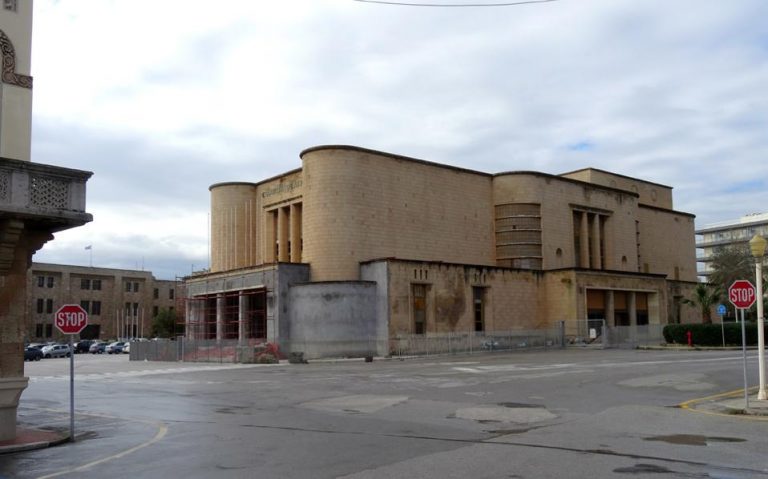 The National Theater of Rhodes to be restored
It is an iconic and historical building located in the port of Rhodes.
The restoration and re-opening of the National Theater of Rhodes is being auctioned by decision of the South Aegean Region.
The "Restoration and re-opening of the National Theater of Rhodes" project is expected to bring the historic building back to life.
It has a total initial estimated budget of €17,235,000 and is financed with the amount of €16,800,000 including VAT 24% from the Recovery and Resilience Fund, with the amount of €400,000 from the South Aegean Region and with the amount of €35,000 from the Municipality of Rhodes.
The total deadline for the execution of the project is set at 24 months from the day of signing the contract with the contractor.
The refurbishment project in detail
Treatment of the building as a monument and its restoration as close as possible to its original form, with the necessary technological and functional modernization.

Restoration of its morphological characteristics and the promotion of the theater space in the spirit of the original idea.
Its functional transformation into a cultural center, open to the public regardless of performances, with theater (lyric and prose), dance and music rooms, rooms for permanent and periodical exhibitions, multipurpose spaces, a shop and a recreation area.
Full utilization of spaces exclusively for the presentation of spectacles and events with the theme of culture and tradition.
Possibility of hosting not only large but also small-scale events, and the possibility of experimental applications.
Alternative possibilities of multiple and rewarding uses, which will be consistent with the quality level of the space (eg the regular presentations of Rhodes to visitors).
Utilization of its original design and original material with a view to the sustainable operation of the ETHR.
Use of compatible modern systems, HEA and application of natural lighting and cooling systems in the context of modern functionality requirements.
Rational operation with the lowest possible maintenance costs over time, but also highlighting the building not only as a "container of culture", but also as an object with its own cultural value.