The revival of timber and wood's use in infrastructure projects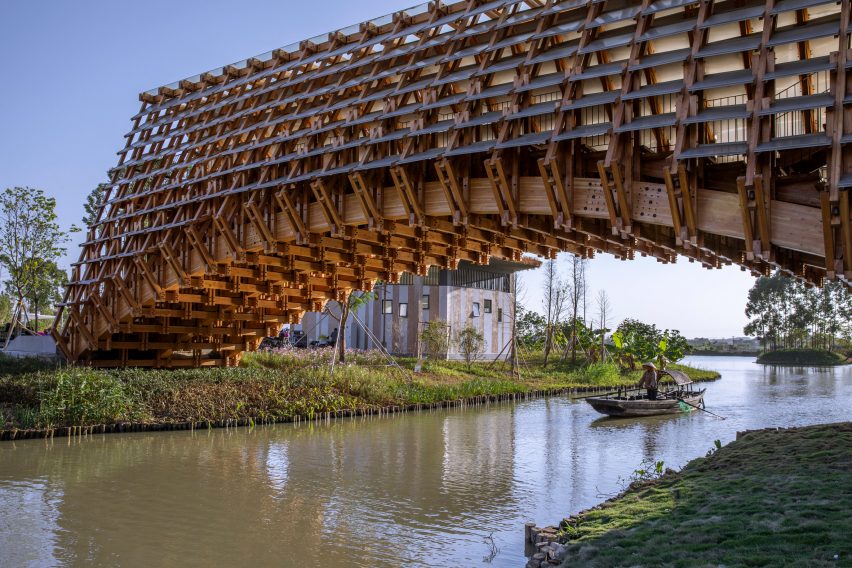 The revival of timber and wood's use in infrastructure projects
Hundreds of wooden elements are joined together to form a wooden bridge in China
A 25-meter-long bridge was built at the Gulou Waterfront, a village in Jiangmen, China. This unusual man-made landscape, formed by a network of waterways and lakes, was once an infrastructure for fishing and agriculture. Now, the area is changing use, with prospects of being used as an ecotourism resort, and LUO Studio has employed to build a new footbridge in its heart.
Gulou Waterfront is an eco-cultural tourism resort developed by OCT in the context of rural revitalization, aiming to combine rural development with the cultural background of local villages on the premise of preserving the unique spatial fabrics featuring mounds and ponds.
The resort maintains the form of the basic local water system while organically integrating nature education, parent-child recreation, and fishing & husbandry activities. Those operations in the resort require several bridges in certain areas, to facilitate the movement of people and fishing boats.
This project is a timber bridge, which is one of the many in Gulou Waterfront Resort.
To differentiate it from urban constructions and revitalize traditional rural culture, LUO studio adopted natural wooden materials to construct an arched bridge.
The resort provides access for small fishing vessels, as well as large tour ships. To enable boats of various sizes to pass under the bridge smoothly, the load-bearing platform at the bottom of the arch which is 1.35m higher than the normal water level, combined with the 2.8m arched structure, forms a space more than 4m higher than the normal water level. This meets the clearance requirements for large tour boats to pass through. Based on geological surveys, the span of the bridge is set at 25.2m.
Through structural calculation and construction analysis, LUO studio utilized 3 large curved beams as main structural components, which are arranged in a parallel manner with a 2.8 spacing between each other. With full consideration of manufacturing and transportation costs, each main beam was divided into three sections at appropriate positions, connected and assembled by steel-strengthened bolts on the site, to form the complete wooden beam.
The ridge is located in the joint area between a dense traditional commercial street area and a children's recreation area. LUO studio created a relatively "closed" corridor space on the timber bridge, which is different from other open landscape bridges in the resort. The aims were to accentuate the transition from the "practical" commercial street area to the relatively "dreamy" children's recreation area, allowing visitors to feel a sense of ceremony in the moving process.

(source:archdaily)