Economic headwinds leads occupiers to have a more cautious approach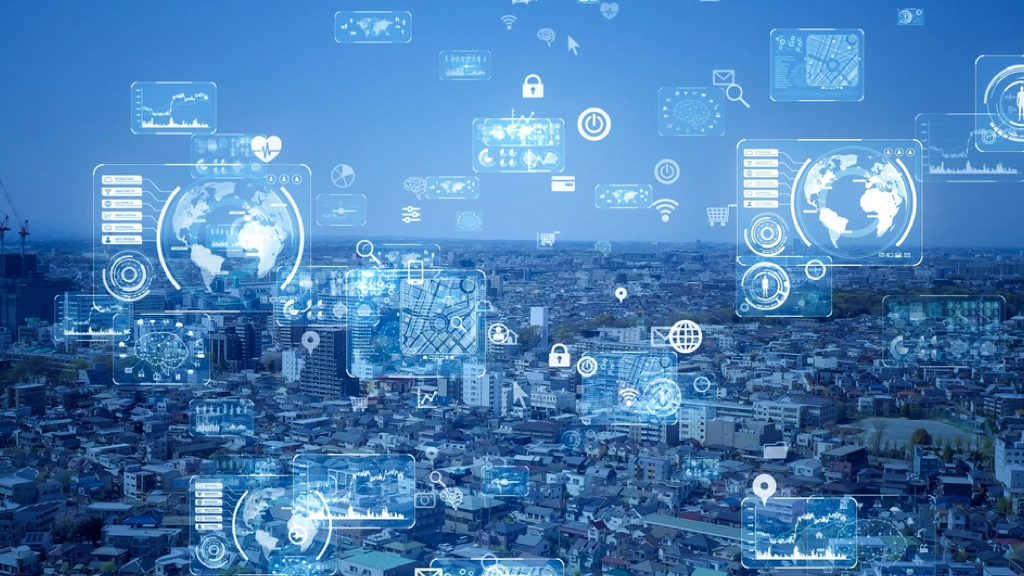 Economic headwinds leads occupiers to have a more cautious approach
JLL's "Global Real Estate Perspective November 2022"
Economic headwinds strengthened in the third quarter with several major economies expected to tip into recession over the coming months. However, some countries such as commodity exporters are faring significantly better, reflecting an uneven slowdown. Globally, inflation has continued to climb. Central banks continue to act aggressively to combat this with more rate increases anticipated into 2023.
According to JLL's "Global Real Estate Perspective November 2022" this is filtering through to heightened uncertainty and is weighing on sentiment.

Occupiers are now starting to have a more cautious approach with lengthening decision-making processes and in some cases reduced requirements. In the capital markets, investor sentiment and transaction volumes have weakened as these headwinds filter through to activity.
A slowing of momentum is becoming evident in the office market.
Global office leasing declined by 5% from the previous quarter during Q3, although activity remains above Q3 2021. Additionally, net absorption was still positive but 31% lower over the year. In the logistics sector demand stayed resilient but is down from peak levels across all three regions, with take-up restrained by a lack of available space in many markets. Global retail sales growth softened in Q3 as the squeeze on real incomes impacts consumer activity, and this is likely to filter through to more constrained retailer activity.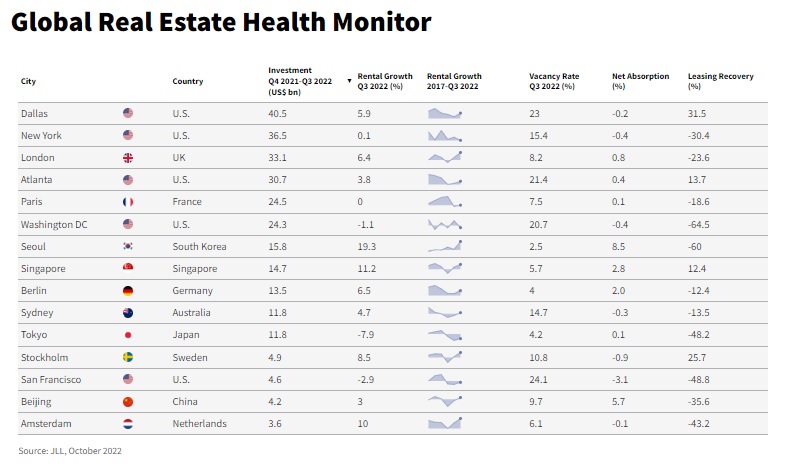 The logistics sector continues to demonstrate its resilience with healthy levels of demand and strong fundamentals.
Nevertheless, there are signs that occupiers are adopting a more cautious approach amid economic headwinds. The U.S. remains most resilient with leasing activity holding up in Q3, while limited supply in primary markets and softening demand in China were drags on performance in Europe and Asia Pacific respectively.
Vacancy continued to tighten in the U.S. and Europe with record low vacancy rates in both regions, but aggregate vacancy ticked up in Asia Pacific. Rents continued to rise in all three regions in Q3, with the U.S. and Europe witnessing double-digit rental growth. Globally, rents increased 14% year-over-year. Rents, however, account for a relatively small proportion of supply chain costs, and there is currently greater occupier focus on operating costs, given concerns over the rising cost of energy and fuel. With energy efficiency offering significant cost-saving potential, this should drive demand for sustainable new warehouses as well as increased emphasis on retrofitting existing facilities.
E-commerce-related demand may have abated from its peak last year, but it will remain a key long-term driver for warehouse space (particularly in emerging Asia where the e-commerce story still has a long way to run). This will lead to increased demand for small-box, urban logistics facilities, including temperature-controlled warehouses. Increased usage of electric vehicles will bring ESG and facility improvements like charging stations and fleet parking into the spotlight. Another long-term trend that will shape the future of global logistics is the increased focus on regionalization of manufacturing.
The significant demand by consumers and governments for the electrification of automotive fleets, coupled with post-Covid supply chain issues and geopolitical uncertainty, has driven the need to regionalize advanced manufacturing.
Headwinds will test ESG commitments
The war in Ukraine, the energy crisis in parts of the world and rising economic headwinds all make for challenging times that will test the commitment of the real estate industry to decarbonization. However, compared to previous economic slowdowns, we are now in a world with much more disclosure, greater risk and urgency around climate change.
According to JLL's "Global Real Estate Perspective November 2022" progressive investors are doubling down on net zero carbon (NZC) interventions in the knowledge that it is impacting positively on value. The current severe supply-demand imbalance of NZC buildings will benefit early adopters of low carbon new builds and retrofits by boosting rent, reducing financial risk and making it easier to attract and retain tenants.
November sees COP27 (the 2022 United Nations Climate Change Conference) take place in Egypt, the most important climate conference globally. This year's COP is billed as the 'implementation COP' and will be a critical test of whether countries and organizations can move beyond the lofty pledges and commitments made at past summits to actual global cooperation and comprehensive action.
In September, Climate Week NYC, an annual summit which takes place alongside the UN General Assembly in New York, brought together international leaders from business, government and civil society to showcase global climate action.
Key takeaways from the summit are:
Governments and business leaders have to remain committed and accountable to their climate targets. A shift in mindset is required among business leaders, away from thinking of sustainability as a cost to realizing the value and opportunity for growth it brings.
The technologies needed to decarbonize exist today, but rapid and large-scale changes in policy and investment across sectors and governments are essential to effectively reach net zero. AI, data, transparency and visibility across value chains will be key to this transition.
Collaboration is vital both within and across organizations, industries and governments. The conversation must expand, and engagement needs to happen with leaders outside the sustainability sector so that everyone can get on the pathway to a low carbon economy.