Energy consumption regulatory and political environment appears to be evolving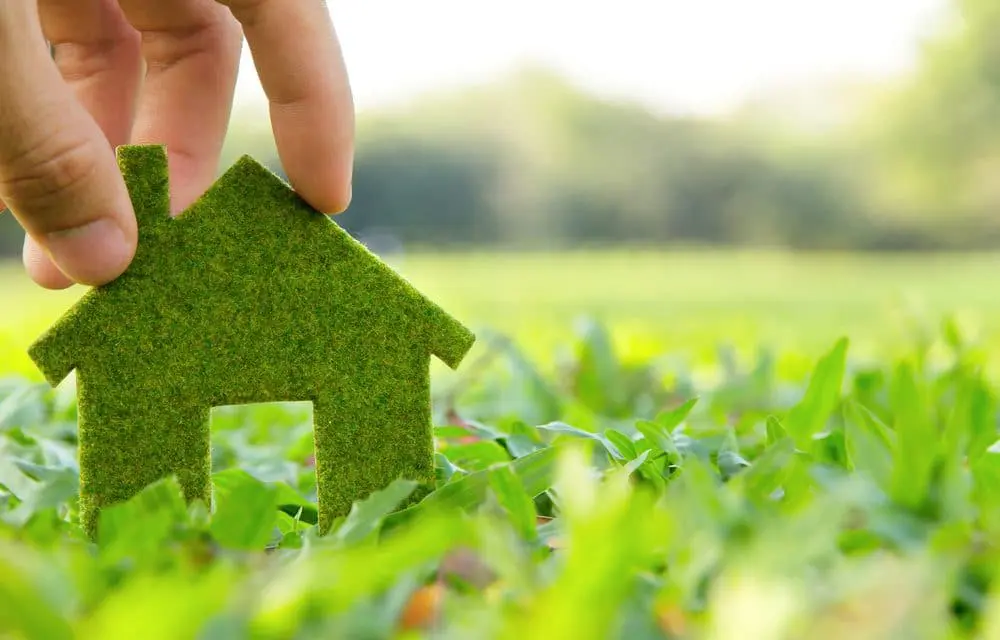 Energy consumption regulatory and political environment appears to be evolving
Real estate has so far been kept sideways in terms of contribution to environmental degradation, and even today it is not seen as the first choice for decarbonizing the portfolios of large companies, despite the fact that €4.1 trillion of investment had been directed to the sector at the end of 2021.
And this, despite the fact that real estate is the asset class where energy use – and therefore emissions – can be reduced most directly and quickly by retrofitting buildings, according to Günther Thallinger, chairman of the sustainability board of the German insurance company Allianz. However, the data needed to map and improve the situation are not always available.
The most difficult part of the equation is managing the energy consumption of the tenants who occupy these buildings, he added, speaking to Capital Monitor during the Making Sense of Net Zero webinar. "That's the area where you can probably do the least [to reduce emissions]," at least in part because it requires tenants to get data on energy use, which is no easy feat.
Occupant emissions are part of the emissions generated by a company's activities but over which it does not have direct ownership or control. These will also in future include reporting emissions produced by building materials used for a building or workers commuting to work, according to the UK Green Building Council (UKGBC). They typically account for at least 85% of a commercial real estate company's total emissions footprint.
Reducing all types of pollution emitted by a building throughout its lifetime is now of key importance. That is, both "embedded carbon" (GHG emissions resulting from the construction, transportation, installation, maintenance and disposal of building materials) and "functional carbon" (GHG emissions from a building's energy consumption). This is a challenge that is becoming harder for property owners to ignore amid increasing regulatory pressure to report and manage their portfolios' emissions. At the same time, policymakers in Europe and the US are supporting the process by tightening requirements for corporate disclosure of energy use.
At the same time, measurement standards such as GRESB are steadily gaining ground, with Europe leading the way in the number of companies choosing to follow them – from 109 companies in 2010 to 784 in 2021. At the same time, GRESB predicts that the number of companies that report worldwide will increase this year by 15-20%.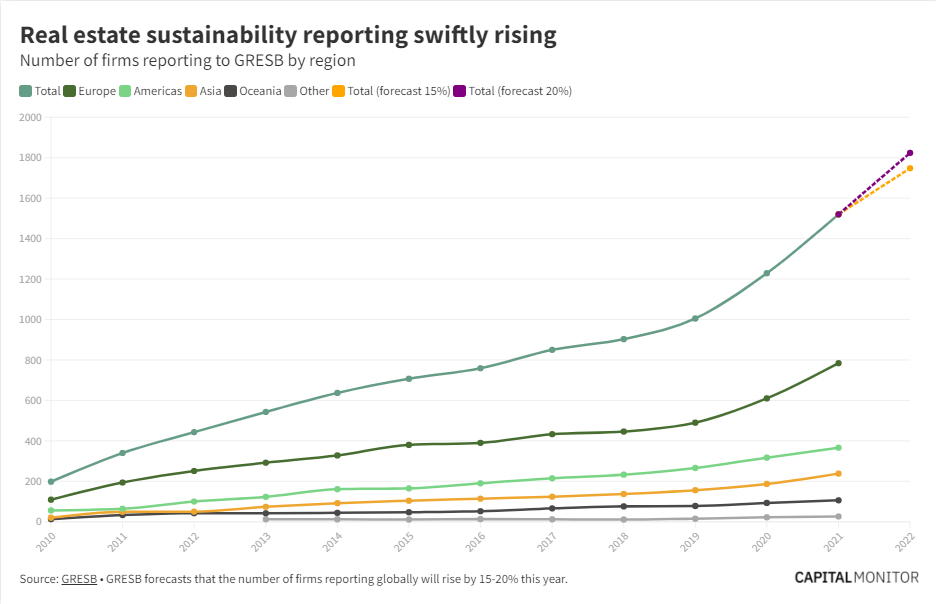 Sourc: Capital Monitor.
But not all tenants are willing to share the relevant data, and the political environment is not yet responsive to the needs of institutional investors when it comes to collecting sustainability data. According to Ying Ye, head of investment for Allianz's UK insurance business, there are examples of tenants winning legal cases against landlords, with British courts upholding their refusal to provide relevant data.
However, the regulatory and political environment appears to be evolving. For example, France implemented the Décret Tertiaire, in July 2010, which applies to commercial properties such as offices, hotels or warehouses. It requires building owners to record their energy use on a nationally supported platform and to reduce their final energy consumption by 40% by 2030, 50% by 2040 and 60% by 2050 compared to a reference year at the latest until 2010. The law requires the submission of the first report by the end of September of this year.