The world needs more affordable sustainable homes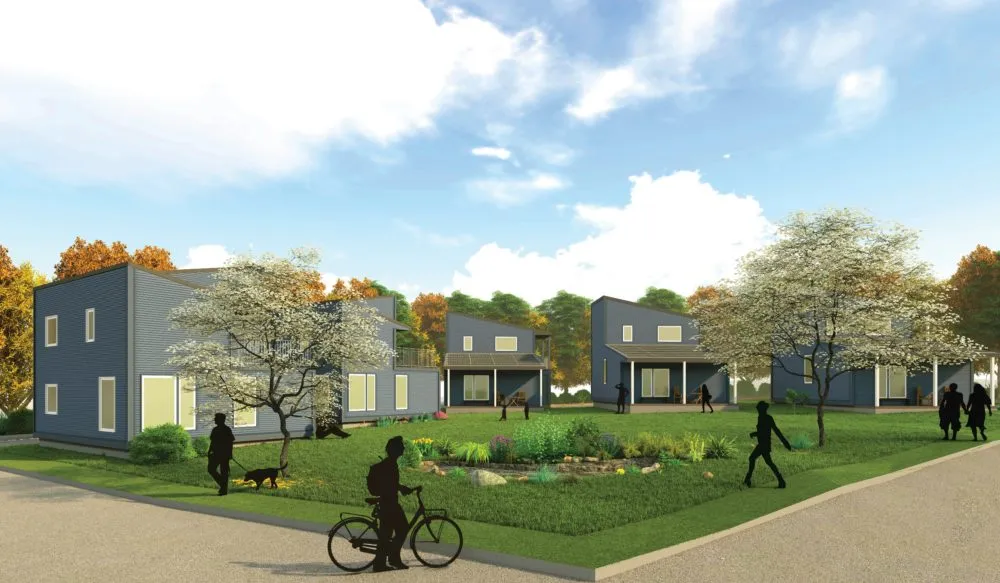 The world needs more affordable sustainable homes
In the aftermath of the pandemic and during the current inflationary period, affordable, net zero housing has become a major issue across the world.
When considering the issue of affordable housing, one would come up with two completely different types of cities, faced with a different set of problems. On the one hand, cities in developed countries are struggling to deal with the existing housing stock, that is there and is often substandard. On the other hand, the developing world is striving to achieve low carbon emissions, while attempting to cover their populations' housing needs, through a significant number of new constructions.
Why, then, are we considering two situations that are so unsimilar under the same scope? The answer lies with sustainability, that is turning the need for net zero residential buildings into as high a priority as providing affordable housing. And ridding the world of CO2 emissions is undeniably a universal goal.

During this year's World Built Environment Forum Week 2023, brought to us by RICS, a panel of distinguished guests was asked to discuss the issue of "Affordable net zero housing in the world's urban megacities".
As moderator, Dr Sam Chandan, FRICS, Professor of Finance and Director of the Center for Real Estate Finance at the NYU Stern School of Business, pointed out, affordable housing is not a new issue. On the contrary, there are long-term structural impediments related to housing affordability, that are now amplified by rising consumer prices, higher home financing costs, as well as the rising cost and declining availability of financing in construction.
At the same time, the industry is faced with the mandate to provide housing that responds to the international climate goals, given that we now know that 40% of the global CO2 emissions are generated from our built environment, both embedded and operational.
But, how do we outline affordable housing? According to Ann Gray, FRICS, President of RICS, affordability is very tricky to define, as it is highly dependent on the local market and income levels. With each market having its unique characteristics, think tanks and governments struggle to collect and evaluate data, to decide what affordable housing should be in any one case.
When it comes to the concept of net zero, with regards to developed markets such as Europe and the USA, Ms. Gray feels new constructions are not the problem. It is the existing stock of residential units that poses the biggest challenge. "Architects and engineers, everybody is all over new construction" as she points out. "But, when you think about what actually is our affordable housing stock and why it is affordable, it's because it is existing and it is substandard".
According to her, providing creative financing mechanisms so that people can retrofit their homes, without disrupting their lives or paying a fortune is of utmost importance. "That, in my mind, is the thing that we have to solve, if we are really going to talk about net zero, affordable housing"
And then, there is the issue of the affordability of the land, which is easily identified in developed markets. "If your underlaying land is considered a market rate commodity, and on top of that you are going to build affordable housing, it does not matter how cost-effective and energy-efficient your new construction is, that land is going to blow it out of the water" says Ms. Gray, explaining that in these markets the affordable housing element does not always pencil out.
On her part, Cristina Gamboa, CEO of the World Green Building Council, is more focused on developing countries. There, she says, people are dealing with a basic backlog of problems, caused by decades of city inaction. With the very high urbanisation rates taking place in these countries, the construction industry is faced with the challenge of providing homes that are not only affordable, but also sustainable, healthy and as energy efficient as possible.
"Housing is fundamental to our safety, our stability, our growth as human beings, our families, our identity, our belonging" she says. "We have to have the empathy to bring the financial interest in upgrading and developing all these new buildings, in a way that will help the climate, but also help families to have a decent roof over their heads" adds Ms. Gamboa, bringing attention to the underappreciated role that housing plays, in terms of public health outcomes.
However, the difference in the situation between developed and developing markets also lies in the level of the existing building stock, most of which is already built in the North, but not in emerging markets like India, China or Indonesia. It is in these countries where the task of building reasonable priced, net zero carbon building is challenging, especially from a materials' aspect.
Take India, for example. According to Prashant Kapoor, Chief Industry Specialist on Green Buildings and Cities at the IFC Climate Business Group of the World Bank, India's operational building emissions are around 15-20% of the country's total, but there is another 15-20% that comes from cement, bricks, steel and glass. And most of that is because India is still building itself.
A different paradigm applies in these countries, he says, where net zero might be possible, but the situation is very different. There, people have to be convinced that they have something to gain from turning their house into a net zero building.
"In India, fuel poverty is a big thing in people's minds. But at the same time, the communication is broken between people feeling that, developers building the right things, the banks financing it and the governments regulating it", as he explains, which makes knowing what really works and how much people save very difficult to pinpoint.
"Our focus has been in articulating that this is not just about saving the planet. If you make the right adjustments, interestingly, you will have a 20% improvement in your energy bills", adds Mr. Kapoor.
At the same time, the occupiers are not the only ones that need convincing. As Ms. Gamboa explains, "this industry, building and construction, has been conservative for a long time. It has a lot of slowness in adopting innovation. And in emerging markets, sometimes, just because they lack prioritization, they do not understand quality housing and solving immediate issues. There is no structural thinking".
To her, it is imperative that developers and governments understand that it is attainable to deliver houses that are both affordable and net zero and incorporate the element of a just transition for all in the process.
And then there is the issue of misperception and lack of transparency, as Mr. Kapoor aptly reminds us, since there is a strong, false assumption that green buildings are very expensive. "So, that is where we 've been focusing, on ensuring people that it actually doesn't cost so much. It is only about 2-3% of the construction cost", he says.
Looking ahead, one thing is clear: no matter which country we are examining, sustainability and affordability are closely connected. However, there is no such thing as a one-size-fits-all solution, so laws and policies should always take localities into account.
For instance, when considering affordability in the existing housing stock, it is vital to remember that pre-existing buildings have a 50% bonus on carbon emissions, compared to any new construction, says Ms. Gray. And in these cases, improving energy efficiency is key.
"Fuel poverty is a massive issue at the moment. So, in the existing housing stock affordability and sustainability are absolutely hand in hand", she points out.
Ms. Gamboa is also focusing on the importance of energy efficiency, to achieve affordability.
"The big spat about the energy transition is back. And that is related to the transition in the built environment, because it has helped people understand that we need to deliver universally on a quality built environment, including housing and energy efficiency, to tackle the ongoing crisis. It is all interrelated", she sums up.
But in every case, institutions should be there to support progress, whether it is through financing or regulating. "If we get the financial sector to really get mobilized, if we can use even a bit more than that 1% that we are getting into the green and climate finance, that would be terrific" says Mr. Kapoor. "And then on the government side, it doesn't have to be about losing taxes. It's about small, incremental pushes, to facilitate these things to happen".
With the pandemic reminding us that our homes are more than a place to rest and with climate action bringing buildings at the forefront of the race to zero, the housing sector is called to act and deliver solutions for the people and the communities around the world.